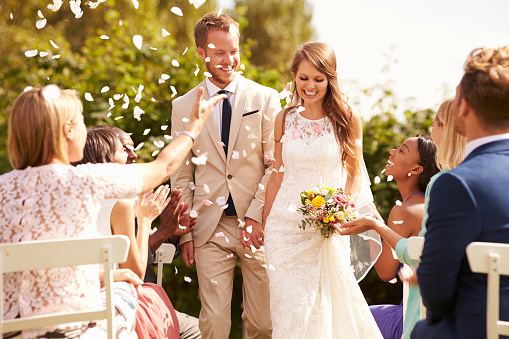 Tips for Buying a Great Bridesmaid Gown
All eyes are on the bride and groom during a wedding ceremony, but gorgeously-adorned bridesmaids will draw significant attention too. So as you begin to narrow your focus to the most important details that will contribute to the uniqueness of your wedding day, be sure to consider how to dress the best support team ever for your bridal party.
Pick the Right Size Range
First of all, be sure to figure out the correct size range for all your bridesmaids. In fact, it helps to identify any possible variance in size of each bridesmaid's gown based on brand.
Consider Price
Firstly, identify the person paying for the bridesmaid gowns. As the bride-to-be, you want to be sensitive about the lifestyle of the bridesmaids if each is expected to buy their own dress. These bridal party members will incur several other costs, including shoes and jewelry, as they strive to look gorgeous in support of a close friend, so don't pick a price that makes the whole involvement too costly for them. If necessary, you may choose the color and allow the girls to buy a gown that within their means.
Usefulnes
A bridesmaid dress doesn't have to be a one-off attire to be perfect. As such, the bridal party should be aware that they're buying an outfit they may wear multiple times after the wedding ceremony. For that reason, they need to look beyond the superficial layer and identify a dress made of a solid, hard-wearing material. Likewise, it helps to assess whether how the dress is designed allows it for use on a broad range of occasions, not just a wedding ceremony.
Choose the Perfect Color Spectrum
You may decide the color spectrum of a bridesmaid's attire based on the wedding flowers. Whichever criteria you use, just avoid super-bright hues that may not resonate well with an array of skin complexions. Better color options include should be soft on the skin, for example dove ray or navy.
Work With Pictures
Don't make a decision before determining how each bridesmaid fits in their gown. Nevertheless, seek more information than a verbal depiction of what dress outline fits each bridesmaid perfectly. You can save time and make an accurate observation by asking the girls to send photos of themselves wearing their favorite dress.
Extra Features
In certain cases, a bridesmaid dress may need some unique customizations, requiring the involvement of a dress maker. There are specific scenarios in which you may need to go to a tailor to have some embellishments added to bridesmaid attire. Whether you're adding panels or straps, be sure to consider additional costs for doing that, and most importantly, pick the right dressmaker.
The art of picking a proper dress for your bridal party is not necessarily difficult once you figure out the issues raised above.
The 10 Most Unanswered Questions about Bridesmaid